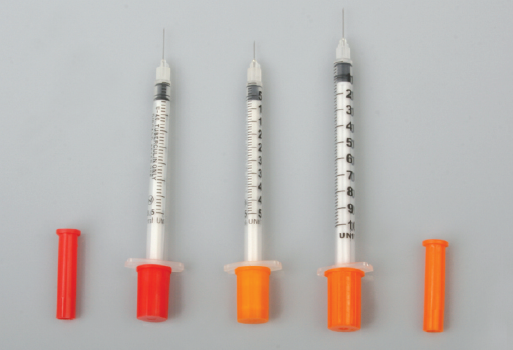 Insulin Syringe
Insulin Syringe
Description
The plastic parts are injected with hot runner molds, and ultrathin needles are fixed permanently.
Ultra thin, sharp and specially lubricated needles.
No Dead space within syringe body to avoid waste of insulin. Graduation lines in bold print for easy readability.
Available in 40 units (Red) and 100 units (Orange).
| Ref. No.: | Size: | Needle size: | Packing: |
| --- | --- | --- | --- |
| NMH200104 | U-40 | 29 G×½´´ | 100PCS / Box |
| NMH200105 | U-4 | 30 G×½´ | 100PCS / Box |
| NMH200101 | U-100 | 29 G×½´´ | 100PCS / Box |
| NMH200103 | U-100 | 30 G×½´´ | 100PCS / Box |