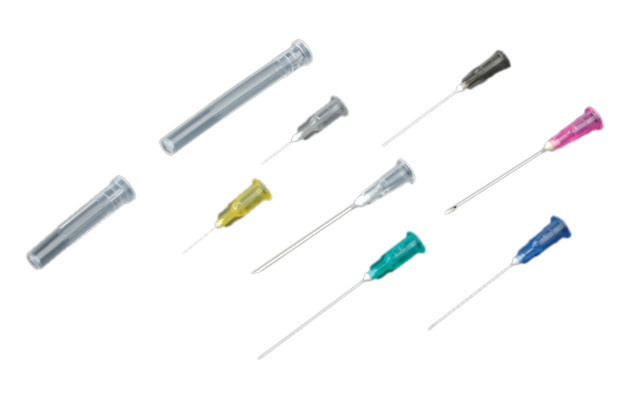 Description
Made of high quality stainless steel.
With large I.D and high flow.
Semi-transparent needle-hub for the convenient observation of blood reflux.
Delicately-designed needle-point with features to sharpness, smooth puncture, less damage to the tissue, less painful feeling to the patient.
Size distinguished by the needle-hub's color for the clear recongnition.
The flexible supply from: in bulk or pack , sterilized or unsterilized.
Available in different needle pipe length.
| Ref. No.: | O.D(MM): | Gauge: | Color: | Needle pipe length: | Bevel Angle: Long bevel | Bevel Angle: Short bevel |
| --- | --- | --- | --- | --- | --- | --- |
| NMH010114 | 0.25 | 31 G | Blue | 1/2" | 1/2" Long bevel | |
| NMH010115 | 0.30 | 30 G | Light-yellow | 1/2" | Long bevel | |
| NMH010116 | 0.33 | 29 G | Red | 1/2" | Long bevel | |
| NMH010117 | 0.36 | 28 G | Blue-green | 1/2" | Long bevel | |
| NMH010101 | 0.40 | 27 G | Grey | 1/2" | Long bevel | |
| NMH010102 | 0.45 | 26 G | Brown | 1/2" | Long bevel | |
| NMH010103 | 0.50 | 25 G | Orange | 1/2" | Long bevel | |
| NMH010104 | 0.55 | 24 G | Purple | 1" | Long bevel | |
| NMH010105 | 0.60 | 23 G | Blue | 1" | Long bevel | |
| NMH010106 | 0.70 | 22 G | Black | 1 1/2" | Long bevel | |
| NMH010107 | 0.80 | 21 G | Green | 1 1/2" | Long bevel | |
| NMH010108 | 0.90 | 20 G | Yellow | 1 1/2" | Long bevel | |
| NMH010110 | 1.10 | 19 G | Cream | 1 1/2" | | Short bevel |
| NMH010109 | 1.20 | 18 G | Pink | 1 1/2" | | Short bevel |
| NMH010111 | 1.60 | 16 G | White | 1 1/2" | | Short bevel |
| NMH010112 | 1.80 | 15 G | Blue-grey | 1 1/2" | | Short bevel |
| NMH010113 | 2.10 | 14 G | Pale green | 1 1/2" | | Short bevel |